Healthcare staff complete Imperial programme to help them into research careers
By Maxine Myers

May 26, 2022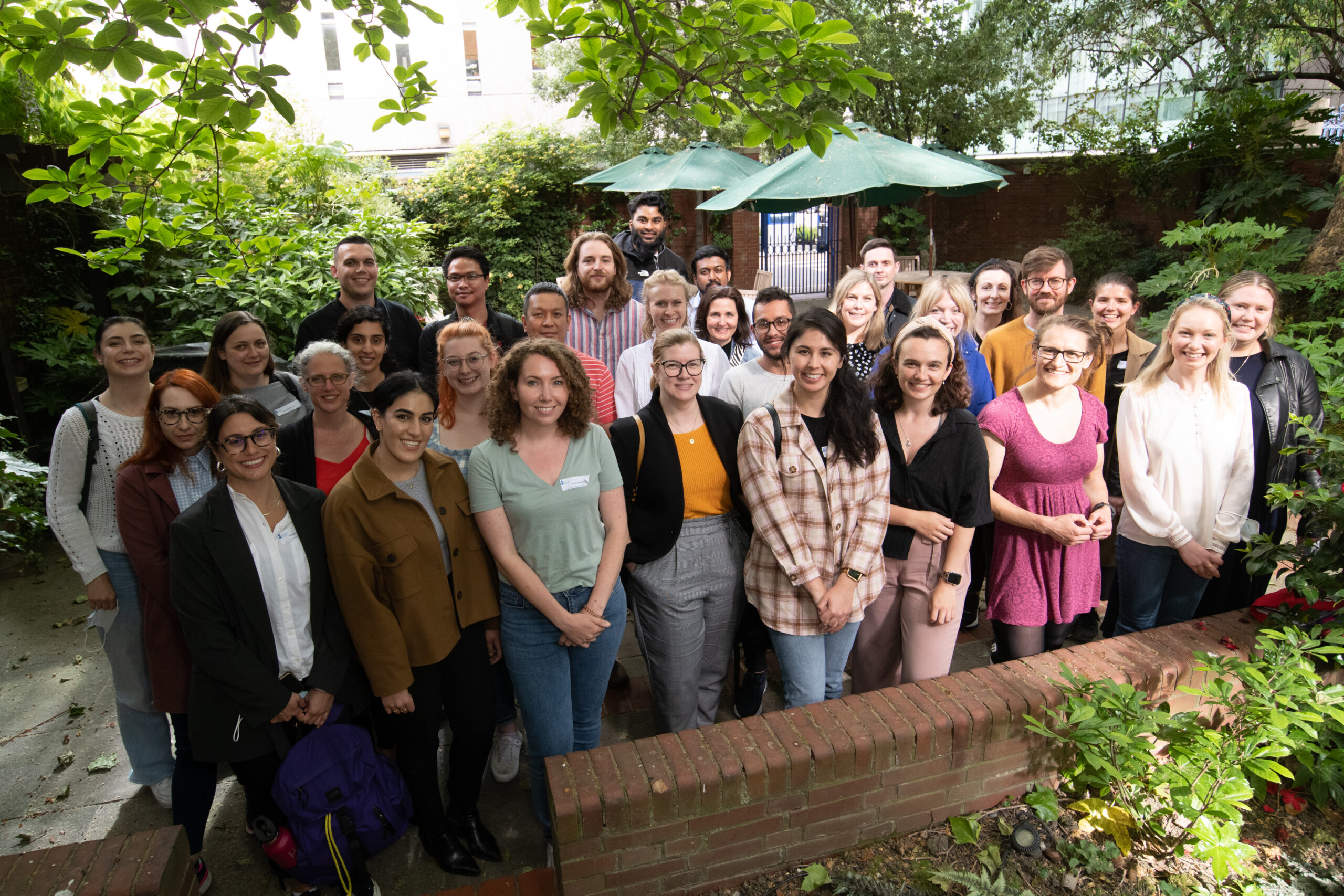 NHS staff working in a wide range of clinical specialities have graduated from an Imperial programme designed to support them into research careers.
The Imperial College Academic Health Science Centre (AHSC) Starting out in Research (SOIR) Course is aimed at NHS allied health professionals (AHPs), nurses, midwives, pharmacists, research practitioners and healthcare scientists. The aim of the course is for participants to develop the skills, knowledge and confidence required for a research career, so that they can apply for clinical academic or research opportunities at pre-doctoral level.
A key aim of Imperial College London and its NHS partners – Imperial College Healthcare NHS Trust, The Royal Marsden NHS Foundation Trust, the Institute of Cancer Research and Chelsea and Westminster Hospital NHS Foundation Trust – is to develop a network of clinicians at all levels and professions across the AHSC partnership who are engaging in clinical research.
The programme was delivered by clinical academics and healthcare staff from Imperial College London and its NHS partners at Imperial's South Kensington campus from March-May 2022. Participants learned about topics such as involving patients and the public in research, identifying a research question, and how research can change clinical practice. They also learned about research designs and methods, getting funding for research and how to get work published in journals.
Research knowledge and skills
Participants had the opportunity to work in groups with a research coach to discuss bringing the knowledge and skills learned into their work environment.  Research coaches included more experienced healthcare professionals and clinical academics from across the AHSC.
Professor Mary Wells, Deputy Director of Nursing (Research) at Imperial College Healthcare NHS Trust and Professor of Practice in Cancer Nursing at Imperial College London, who co-ordinated the programme, said:
"Research plays a vital role in changing clinical practice and improving healthcare for patients. We saw this clearly illustrated during the COVID-19 pandemic. Nurses, midwives, allied health professionals, and other groups of staff who attend this course are ideally placed to do research for patient benefit, and have unique perspectives and insights to bring to the research table.
"A clear mission of Imperial College AHSC is to ensure that we extend research opportunities to a wider range of NHS staff. The Starting out in Research Course is a great example of this work and was designed to give our participants an introduction into core aspects of research and to inspire them to start their careers in this area.
"It was great to have our first in-person event and I am confident that we have identified and supported future research talent."
Participants' perspective
Maxine Myers caught up with some of the participants from the programme.
Shabnam Sobhdam, Gynaecology and Urology Oncology Specialist Pharmacist at The Royal Marsden NHS Foundation Trust, said:
"I had supported colleagues with their research in the past and although this has been a great experience, I wanted to understand research more to see what it entailed and how I could get started on my own project in the future. I've always had an interest in research but was not aware that I could be as involved as a hospital pharmacist until recent years.
"This course has really fed my interest and I feel inspired to get started on all my research ideas.
"Overall, the course was great. It was lovely to network with fellow colleagues both within my Trust and in the partner NHS Trusts. I enjoyed all the sessions and felt it was a comprehensive introduction to research covering most areas. The coaching sessions and the round-up on opportunities available at the individual Trusts were particularly helpful to support us in ensuring our research journey did not end with the course.
"I have already started drawing up draft project plans to kick off my ideas now that I have a better understanding on how to do this. I have also used my knowledge to reach out to core people at the Marsden to help with hopefully writing up some abstracts."
Edward Walsh, Senior Musculoskeletal Rotational Physiotherapist at Imperial College Healthcare NHS Trust, said:
"I participated in the SOIR programme to gain a better understanding of the principles behind research and to determine whether I would contribute directly or indirectly to the process.
"My interest in research started at University as I sought answers that addressed the uncertainty regarding various physiotherapy treatment methods
"Research works very differently from clinical practice; gaining an understanding of how funding, publication decisions and grants work was very helpful. It was also great to hear how various inspirational researchers had navigated the research landscape and the different twists and turns in their respective careers.
"Some of the statistics information will help me better interpret results from clinically relevant papers and I will also be able to pass on some of what I've learned to members of the team.
"I feel much better equipped to do the essential background reading and home in on a potential future research question. The course has inspired a few ideas."
llhan Wardhere, Senior Anaesthetic Nurse at Chelsea & Westminster Hospital NHS Foundation Trust, said:
"My interest in research began whilst undertaking my undergraduate dissertation. I liked the idea of developing a research question and systematically searching for the answer. I completed my MSc in advanced nursing and delved deeper into research and research methods.
"During my studies, I did higher-level modules in research methods and evidence-based decision making. I achieved high marks for my dissertation and my work was selected to be published at the university library. Those achievements really made me more aware of how much I wanted to get involved in making a difference to patient care and outcomes through research and evidence-based practice.
"I really enjoyed the SOIR programme and especially the coaching sessions, as they provided one to one contact with senior nurses and researchers. The sessions really helped me to understand that different paths to research exist and the prerequisite for each was explained.
"The programme has been extremely useful in providing in-depth knowledge about research and career pathways. Subsequently after completing this course, I applied for a clinical research nurse job and was successful. I do strongly believe this course played a huge part in my success."